Oct 28, 2007
Published Oct 28, 2007
EPISODE 31 SHOW NOTES
Genealogy Gems: Ultimate Research Strategies. The book has been discontinued .
A special little Halloween hello from Genealogy Gems.
Update: iGoogle has been discontinued.
The website is evolving every day with new content, so be sure and visit regularly at www.genealogygems.com Be sure to click on the Google Research Gems Link. And you'll also find lots of other great tips that we've talked about to make Google work harder for your genealogy research.
Please do let your research friends and your local genealogy society know about it as a resource for them too, even if they don't listen to the podcast.
The Irish Jig performed by the National Promenade Band in 1914 for Edison Records
American Memory provides free and open access through the Internet to over 9 million items of written and spoken words, sound recordings, still and moving images, prints, maps, and sheet music that document the American experience. These materials chronicle historical events, people, places, and ideas that continue to shape America.
Advertising 1850-1920
Architecture and Interior Design 1935-1955
Baseball Cards 1887-1914
Broadsides and Printed Ephemera 1600-2000
Chicago Daily News - Photographs 1902-1933
7 different Civil War collections with many, many photographs
Daguerreotype Photographs 1839-1864
Depression Era to World War II FSA/OWI Photographs 1935-1945
Film, Animated 1900-1921
There are several Folk Music Collections
Great Plains Photographs 1880-1920
Maps and Cartographic Items 1500-Present
New York City Films 1898-1906
Nineteenth-Century Books 1850-1877
Nineteenth-Century Periodicals 1815-1900
Ohio River Valley 1750-1820
Panoramic Photographs 1851-1991
Pearl Harbor and Public Reactions Audio Interviews 1941-1942
Posters, WPA 1936-1943
Prairie Settlement, Nebraska Photographs and Letters 1862-1912
Railroads Maps 1828-1900
Revolutionary Era Maps 1750-1789
San Francisco and 1906 Earthquake Films 1897-1916
Sheet Music 1820-1860 & 1870-1885
Slave Narratives Audio Interviews 1932-1975
Small Town Life, Mid-Atlantic Stereoscopic Photographs ~ 1850-1920
Southern U.S. Personal Narratives 1860-1920
Traveling in America Books ca. 1750-1920
Turn-of-the-Century America Detroit Publishing Company Photographs 1880-1920
Upper Midwest Books ca. 1820-1910
Utah and Western Migration 1846-1869
American Variety Stage - Vaudeville 1870-1920
Western U.S. Photographs 1860-1920
World War I Military Newspapers 1918-1919
World War I Rotogravures 1914-1919
World War II Maps Military Situation Maps 1944-1945
Some of my other favorite areas of the Collections and Programs are:
The VETERANS HISTORY PROJECT
The NATIONAL DIGITAL NEWSPAPER PROGRAM
CHRONICALING AMERICA â HISTORIC AMERICAN NEWSPAPERS
The PRINTS AND PHOTOGRAPHS ONLINE CATALOG
Prints & Photos LOC online database:
LOC WEBCASTS
Start by browsing the Biography and History listings.
The library website also offers RSS feeds and email Subscriptions on a variety of subjects.
The future: the library just signed a World Digital Library Agreement with the United Nations Educational, Scientific and Cultural Organization pledging cooperative efforts to build a World Digital Library website.
World Digital Library at the Worlddigitallibrary.org.
GEM: Genealogy for the Next Generation
To get the attention of the next generation for genealogy I Simposonized myself.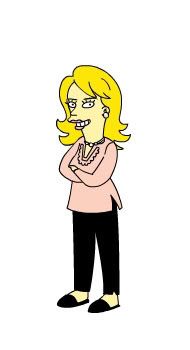 Simpsonize Me is no longer available.