Dec 4, 2013
Wondering how to get your kids and grandkids engaged in family history? Looking for worthwhile activities for the kids over the Christmas break? In this episode author Janet Hovorka provides answers. Our children are the future of our families, and there's no better time to help them engage, explore and enjoy their family history! App Users: Be sure to check out the audio Bonus Content in the Genealogy Gems App!
NEWS:
Congratulations to the winner of the 1 year digital subscription to Family Tree Magazine. Amanda's Blog: ABT UNK
Tips for Collaborative Genealogy
Read about FamilySearch Updates Include VA Pension Cards, South American Records
Where You Can Find Over a Million British Church Records that are Now Indexed!
MAILBOX:
From Gary: "There was a recent episode of the Las Vegas Based "CSI" show in which a genealogist was used to help solve a crime and the head CSI guy (Ted Dansen) and the Genealogist debated about Genealogy being a science. Only took them 1 hr (and 30 commercials) to do what takes us a live time –Hummmmmm!!!"
Premium member Roger in Utah: "Thanks for another great podcast – this time on MY ancestral homeland of Norway. I have spent many hours using the digitalarchivet.no website. While you can use the English version, parts of it are only in Norwegian.
Norway, like most Scandinavian countries, has put nearly all of their parish records online. It is a wonderful resource. You have to learn what some of words are, such as birth, Christening, confirmation, marriage, death, etc. But even just these can help a lot. If you learn a few more Norwegian words, you can more fully access the vast amount on information available on that site.
In that podcast you also talked about taking a risk and contacting someone about possible family information. Through some of my Norwegian research I found a man who lives in a little town about an hour north of Oslo.
He is the leader of a group called the Hadelandlag Society. Hadeland is a region of Norway. I got an email address for this man, Ole, and contacted him. He has been wonderful to me. He went to a local repository and looked up information on my family from the information I gave him. Of course, I thanked him profusely for helping someone he did not even know. We have now emailed several times. Certainly the "risk" paid off.
I have also found some US chapters of the Hadelandlag Society and have become a member. And I found some distant cousins as a result, one in Canada, and one in Minnesota. We email somewhat regularly. See what taking the "risk" can do."
Matt Has a Mystery and is Looking for Extra Sets of Eyes: "Thank you for your podcasts! … even listening to the older podcasts can provide needed perspective on how to break through your brick walls. Speaking of brick walls, mine may be crumbling. I've been trying to trace the parents/ancestors of my great-grandmother. Up until this past summer, I had no information whatsoever. On May 30, 2013, I found an 1855 New York State Census entry that may tell me who her family is. I wrote up a blog entry about the current status of the search and I'd be interested in your thoughts." Matt's Blog
From Alan in Minneapolis, MN: "I started listening to the podcast about a year ago, and it's been a great reminder of things that I had forgotten how to use Google for. Thanks to your hints, I've found descendants for 2 of my wife's great-great uncles who moved away from the farm in Illinois and we lost track of. The Google tips from early on in the series have even helped in projects at work- my colleagues think I'm spending hours searching for things that I'm finding in a couple minutes with some of the tricks.
Also after hearing about blogging your family history for at least the last 3 pod casts, I've finally decided to take the leap and start publishing my discoveries on a blog (groundhoggenealogist.blogspot.com) so I can post there rather than send emails and miss some of the cousins or send Facebook messages and miss the others. I've only written two posts (one's up one set to publish Sunday morning), but I hope this is something I can keep up. Just a note to say thanks."
Janice in Montreal started a genealogy blog: "I attended several of your presentations at the BIFHSGO conference a few weeks ago and really enjoyed them. Partly as a result of hearing your advice, I have started a blog on which I'm posting the short family history articles I've been writing, as well as comments on the research process. The story called "An Economic Emigrant" explains why I'm a Canadian rather than an American. Please take a quick look when you get a chance." writinguptheancestors.blogspot.ca.
Ethan is looking for some Fold3 help: "I recently went to look for the graves of my great-grandparents and learned in doing so that their son, my grandpa's brother, died in WWII. Since he has a very common name, George L. Allen, I have been unsuccessful in trying to look up his records on fold3.com or other search engines. Any hints on how to narrow my search? This is the information I was able to obtain just from his headstone: Private First Class, 63rd armored infantry battalion, 11th armored division. He died Jan 6, 1945, just as the war was dying down. Other than that, I don't know if he was in the Pacific or in Europe. My fold3.com search yields thousands of results. Any help would be appreciated!"
Lisa's Answer: Fold3.com does have some educational videos on YouTube. In particular: How to Search on Fold3. If you don't get the full answer you are looking for, leave a comment on the video to ask a more specific question or ask how to contact them with your question. YouTube is interactive when it comes to comments and I would anticipate they would respond.
Family Tree Magazine Webinar Recording: Making the Most of Fold
GEM: Helping Your Kids and Grandkids Engage in Family History with Janet Hovorka
Janet is the author of the book Zap the Grandma Gap
Available Workbooks:
My Swedish Ancestor
My Civil War Ancestor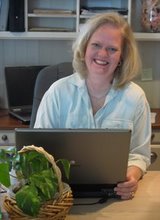 Above: Janet Hovorka, Owner of FamilyChartmasters
Visit the free Website for more Zap the Grandma Gap

CLOSING:
Sign up for the FREE Genealogy Gems Newsletter at www.GenealogyGems.com
Explore Lisa's brand new Pinterest Board: Best U.S. Libraries for Genealogy